Medicare Supplement Insurance

When it comes to selecting a Medicare Supplement insurance carrier, you have choices.
Whether you are researching Medicare Supplement for the first time, or looking to move to a different carrier, Central States Health & Life Co. of Omaha (CSO) wants to be your choice for a Medicare Supplement insurance policy.
When applying for coverage outside your Open Enrollment period or moving coverage to a different carrier, coverage is underwritten and is not guaranteed.

CSO and their Medicare Supplement Insurance policies are not connected with or endorsed by the U.S. Government or the Federal Medicare program.
CSO Medicare Supplement policies have limitations and exclusions.


Central States Health
& Life Co. of Omaha
AM Best Financial Strength Rating
* The AM Best Company, Inc. rating refers only to the overall financial status of the company and is not a recommendation of the specific policy provision, rates or practices of the insurance company. 
AM Best's Financial Strength Rating is an independent opinion of an insurer's financial strength and ability to meet ongoing obligations to policyholders. For the latest rating, access www.ambest.com
Medicare Supplement benefit plans are standardized.  What can differ is cost and service.  
You want a strong, caring company with programs suiting your needs.  CSO sets themselves apart from other carriers by extending superior service to their policyholders.
CSO's Medicare Supplement policies offer:
Responsive and accessible customer service representatives.
Household discounts on premiums.
Timely claims processing; no paperwork with automatic filing.
Applications that require no medical exams or bloodwork.
With over 85 years of experience in the insurance business, CSO differentiates themselves by extending superior service and products.  We strive to be the provider of choice with our motto "To Care is to Grow". The guiding philosophy behind how our business is done, is caring for our policyholders, business partners, agents and employees.
Medicare and a Medicare Supplement policy work together to provide coverage on your health care expenses.
Medicare Part A (Hospital Insurance) helps cover:
Medicare Part B (Medical Insurance) helps cover:
Medicare provides you with the coverage described above; however, it is not designed to cover all your health care costs. You must pay these gaps in Medicare coverage which are often deductibles, coinsurance and co-payments. A Medicare Supplement insurance policy can assist you with paying all or some of these costs, depending on the policy you choose.
The following Medicare Supplemental Insurance plans may be available: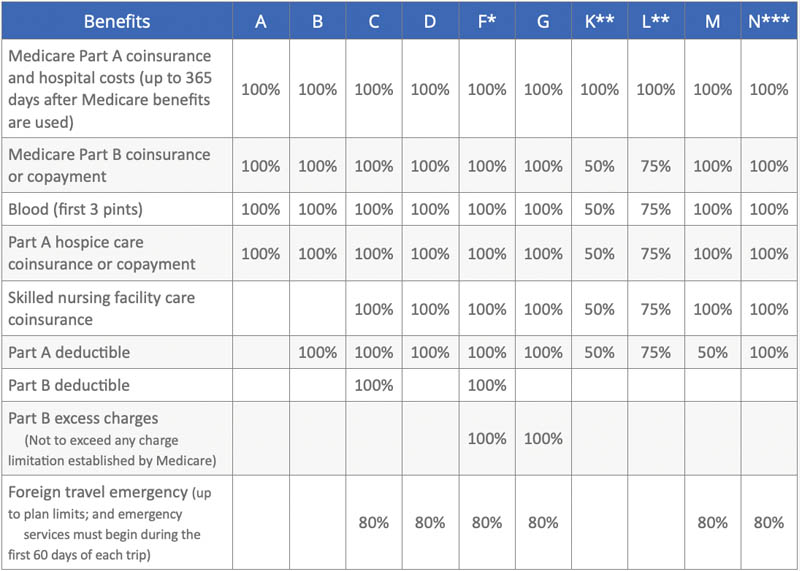 Source: Choosing a Medigap Policy: A Guide to Health Insurance for People with Medicare.
* Plan F is also offered as a high-deductible plan by some insurance companies in some states. If you choose this option, this means you must pay for Medicare-covered costs (coinsurance, copayments, deductibles) up to the deductible amount of $2,700 in 2023 before your policy pays anything.
** For Plans K and L, after you meet your out-of-pocket yearly limit and your yearly Part B deductible ($226 in 2023), the Medigap plan pays 100% of covered services for the rest of the calendar year.
*** Plan N pays 100% of the Part B coinsurance, except for a copayment of up to $20 for some office visits and up to a $50 copayment for emergency room visits that don't result in an inpatient hospital admission.
Starting January 1, 2020, Medigap plans sold to people new to Medicare won't be allowed to cover Part B deductible. Because of this, Plans C and F will no longer be available to people who are new to Medicare on or after January 1, 2020.
If you already have either of these two plans (or the high deductible version of Plan F) or are covered by one of these plans prior to January 1, 2020, you will be able to keep your plan. If you were eligible for Medicare before January 1, 2020 but not yet enrolled, you may be able to buy one of these plans.
People new to Medicare are those who turn 65 on or after January 1, 2020, and those who first become eligible for Medicare benefits due to age, disability or ESRD on or after January 1, 2020.
These Medicare Supplement insurance products are underwritten by Central States Health & Life Co. of Omaha.

Each insurer has sole responsibility for its own product. This is a solicitation of insurance. A licensed insurance agent may contact you.

Your Medicare Supplement insurance policy will not cover long-term care (like care in a nursing home), vision or dental care, hearing aids, eyeglasses, or private-duty nursing.

Benefits and premium under Medicare Supplement Insurance policies may be suspended for up to 24 months if you become entitled to benefits under Medicaid. You must request that your policy be suspended within 90 days of becoming entitled to Medicaid. If you lose (are no longer entitled to) benefits from Medicaid, the policy can be reinstated if you request reinstatement within 90 days of the loss of such benefits and pay the required premium.

You are under no obligation when you ask for more information. If you respond you may be contacted by a licensed insurance agent in an attempt to sell you insurance.  A licensed agent will provide you complete information including benefits, costs, eligibility requirements, exclusions and limitations. CSO policies do not contain a pre-existing condition exclusion.

Applicable state versions of Medicare Supplement policies: COMSAA2019ST, COMSBA2019ST, COMSCA2019ST, COMSDA2019ST, COMSFA2019ST, COMSGA2019ST AND COMSNA2019ST, where ST is state of issue. 

Arizona, Arkansas, Florida and Georgia residents: Policies COMSAI2019ST, COMSCI2019ST, COMSFI2019ST, COMSGI2019ST AND COMSNI2019ST, where ST is the state of issue.  

An Open Enrollment Period is the 6-month period of time beginning on the first day of the month you are 65 or older and enrolled in Medicare Part B. In some states, plans may be available to persons under 65 years of age who are eligible for Medicare by reason of disability or End Stage Renal Disease. All insurance policies may not be available in your state.

This website does not pertain to states where no coverage is available including: AK, CA, CO, CT, DE, HI, ME, MD, MA, MN, MO, NH, NM, NY, OR, RI, VT, WA, and WI, including DC, Guam and Saipan.  IDAHO RESIDENTS: Information regarding Medicare Supplement Insurance on our website does not apply to Idaho residents. Please contact an Agent for Idaho Specific information.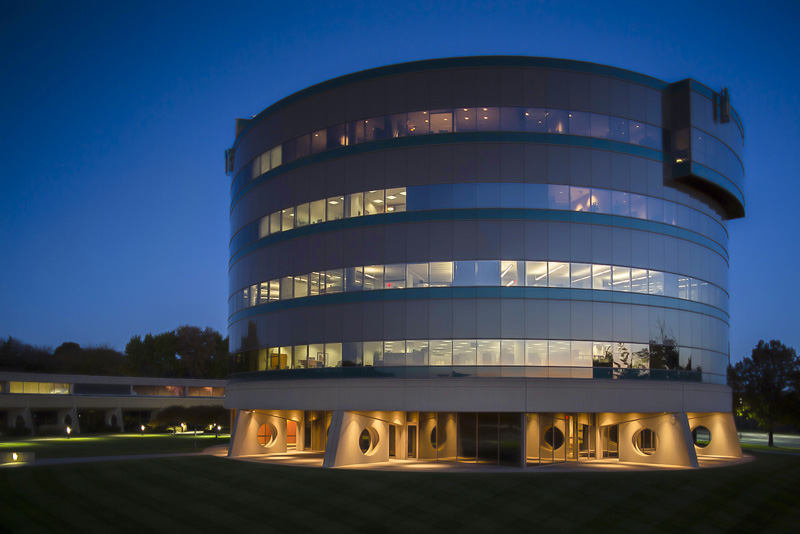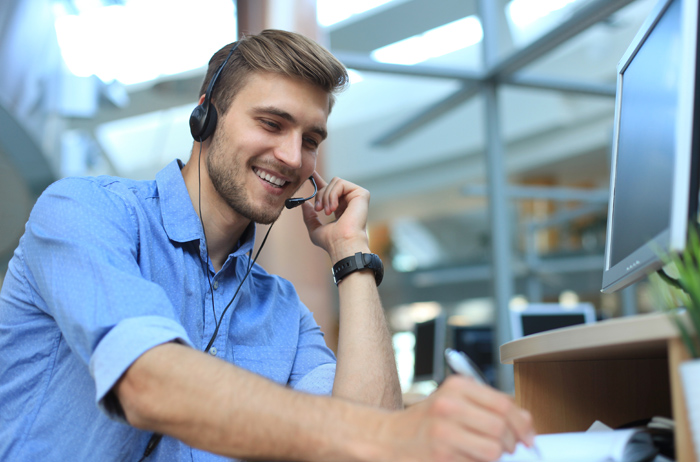 Looking for Assistance?
We're Here to Help!
Speak to a Customer Service Representative
Phone Number:
(833) 522-4874
Hours: 
8:00 AM to 5:00 PM (CST)
Monday through Thursday
8:00 AM to 4:00 PM (CST)
Friday
You can obtain a free quote by speaking to an agent.
Phone Number: 
(866) 887-9323
To follow-up on a Medicare Supplement Claim, CLICK HERE
To contact an Agent for help with a CSO Medicare Supplement policy call (866) 887-9323.
Get a Free Medicare Supplement Guide
Download a FREE copy of Choosing a Medigap Policy: A Guide to Health Insurance for People with Medicare by the Centers for Medicare and Medicaid Services and the National Association of Insurance Commissioners.
Learn about Hear in America Hearing Care Discount Programs
Explore the features of this hearing care discount program.  For more information contact us:
Phone Number:
(800) 286-6149
Online: 
CLICK HERE